RECORDING
Day one: Be part of the network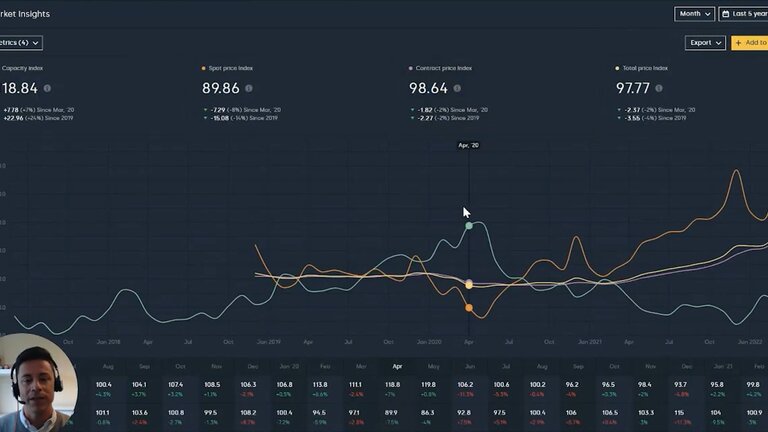 RECORDING
Day two: The route to a more sustainable future
PRODUCTS
Explore our digital freight solutions
Together our products work in harmony to increase transport efficiency along the full lifecycle of freight activities.
Market Intelligence & Benchmarking
Transporeon Insights
Monitor the contractually agreed rates between shippers, logistic service providers, and the spot market.
Use important "indirect" indicators to illustrate the capacity situation on any given lane or market.
Define the lanes and metrics that you want to monitor.
Get a clear overview of the biggest market changes and top movers.
Freight Procurement & Rate Management
Transporeon Trust Center
Single storage point for all documents such as licences, certificates and contracts
Get reminders about expiring documents for all involved parties
Central administration and properly managed carrier pool
Documentation of all compliance-relevant information and files
Integration for other TP modules like procurement
Freight Procurement & Rate Management
Transporeon Freight Procurement
Smart purchasing strategy.
Achieve optimum freight rates.
Reduce administrative effort and costs.
Find suitable partners worldwide.
Audit-proof the tendering process.
Freight Procurement & Rate Management
Transporeon Carrier Premium Account
Apply for suitable calls for bids with one click and win new customers.
Make your business known on the platform and in the service provider database.
Clear distribution of competencies and tasks between Head Office and Branch Office.
Optimize internal processes through additional functions and reports.
Real Time Tracking & Visibility
Transporeon Visibility
Reduce check calls and automate processes.
Increase performance and customer satisfaction.
Reduce wait and dwell times with more accurate ETAs.
Increase your on-time performance and avoid penalties
Reduce CO2 emissions and empty mileage.
Real Time Tracking and Visibility
Transporeon Carbon Visibility
Precise measuring & reporting on logistics emission
Across entire supply chain and all transport modes
Based on the highest market standards covering the total emissions (Well-to-Wheel)
Enables operations to move to Net Zero logistics