Get the UTA Fuel & Service Card powered by Transporeon!
Say goodbye to time-consuming admin. Join one of the largest networks on the continent and use one card for everything.
Suitable for all vehicle and fleet sizes – take advantage of this exclusive offer for Transporeon Carriers today.
Fuel Service
Toll Service
Tax Service
Plus Services*
Digital Services**
*Cleaning, vehicle accessories, tires, breakdown, repair, rental, border clearance, combined transport, driver's license management.
**UTA's new SmartConnect® telematics service! This solution enables you to remain connected to your vehicles at all times across Europe – as if you were sitting in the cab. You can quickly and easily locate the exact position of your vehicles via GPS for a real-time overview of your fleet. Whether in the office or on the road, UTA SmartConnect® drives efficient fleet administration, particularly for logistics companies.
For general enquiries about UTA, call +49 6027 509-669
How does it work
Being part of the UTA network provides stability and reassurance against all odds. As fuel prices remain sky-high as a result of the war in Ukraine, now's the time to get smart and save costs wherever you can.
Richard Roehr from UTA and Edwin Lemmenfrom Netherlands-based custom transport solutions specialist, Welsi join Senior Partner Manager at Transporeon, Serge Schamschula to explain the long list of advantages for trucking companies as a result of this new partnership.
Our partnership with UTA Edenred provides Transporeon carriers with much more than just refueling – and that's just the beginning! From attractive discounts and simplified billing, to smart toll processing in most of the European countries with
UTA OneⓇ
, this partnership delivers fast ROI for fleets with greater savings the more you use it.
BENEFITS
Save time and money and increase your competitiveness with our exclusive offer
UTA cards are accepted at 69,600 locations including 54,500 fuel stations as well as 155,000 charging stations across 37 countries.

More choice and greater comfort for drivers at more than 9,000 stations providing vehicle washes, repairs, accessories and more.

Refuel with your choice of 160 brands.

Efficient fleet administration and cost control through UTA analysis and planning features.

Cost-effective pricing based on standard discounts and a wide choice of fuelling locations.

Consolidated e-billing with convenient payment terms and attractive liquidity benefits.

Reduce fleet operating costs through discounts at thousands of service stations across Europe.

Toll processing in 26 European countries and tax refund services via our partner.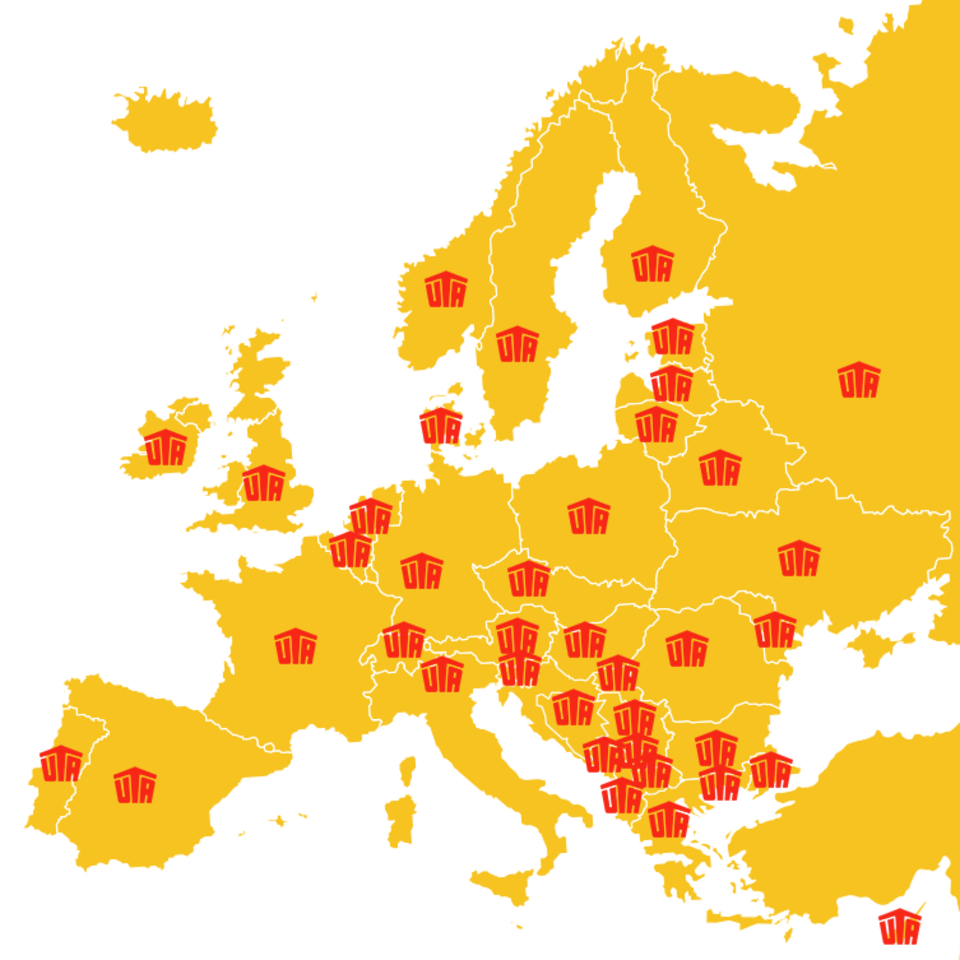 Find the most cost-effective fuel stations with UTA SmartCockpit®
Fuel prices can vary considerably on a route, as our sample calculation shows.
Route: from Prague (Czech Republic) via Frankfurt (Germany) to Metz (France)
Length: 757 km
Parameters used for the calculation.
Start: 20.01.2021 at 14:53; projected prices at market transparency unit; vehicle tank capacity: 900 liters; vehicle consumption: 33.5 liters / 100 km; fuel level at start: 180 liters; maximum deviation: 1 km; number of tanks: 676 liters.
For more information about the Smart Cockpit click here.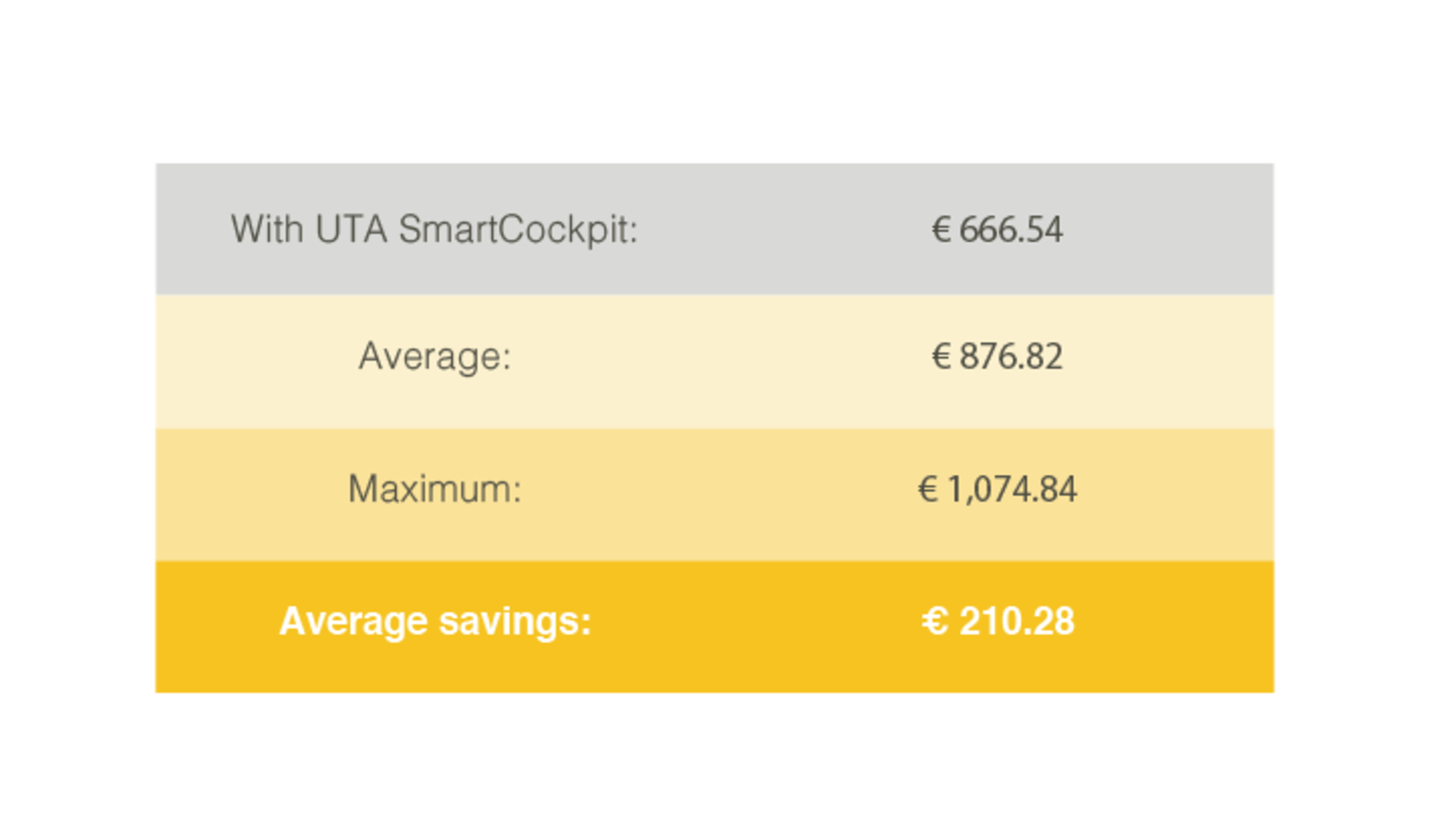 This demonstrates how cost-effective fueling can be:
UTA SmartCockpit comes with super fast return on investment and offers individual fuel planning* at an attractive price.
And on top of fantastic savings, feel confident with no hidden fees and the option to cancel anytime (there's no binding contract).
*Plan fuel consumption per individual truck/vehicle or per fleet based on # of vehicles in fleet.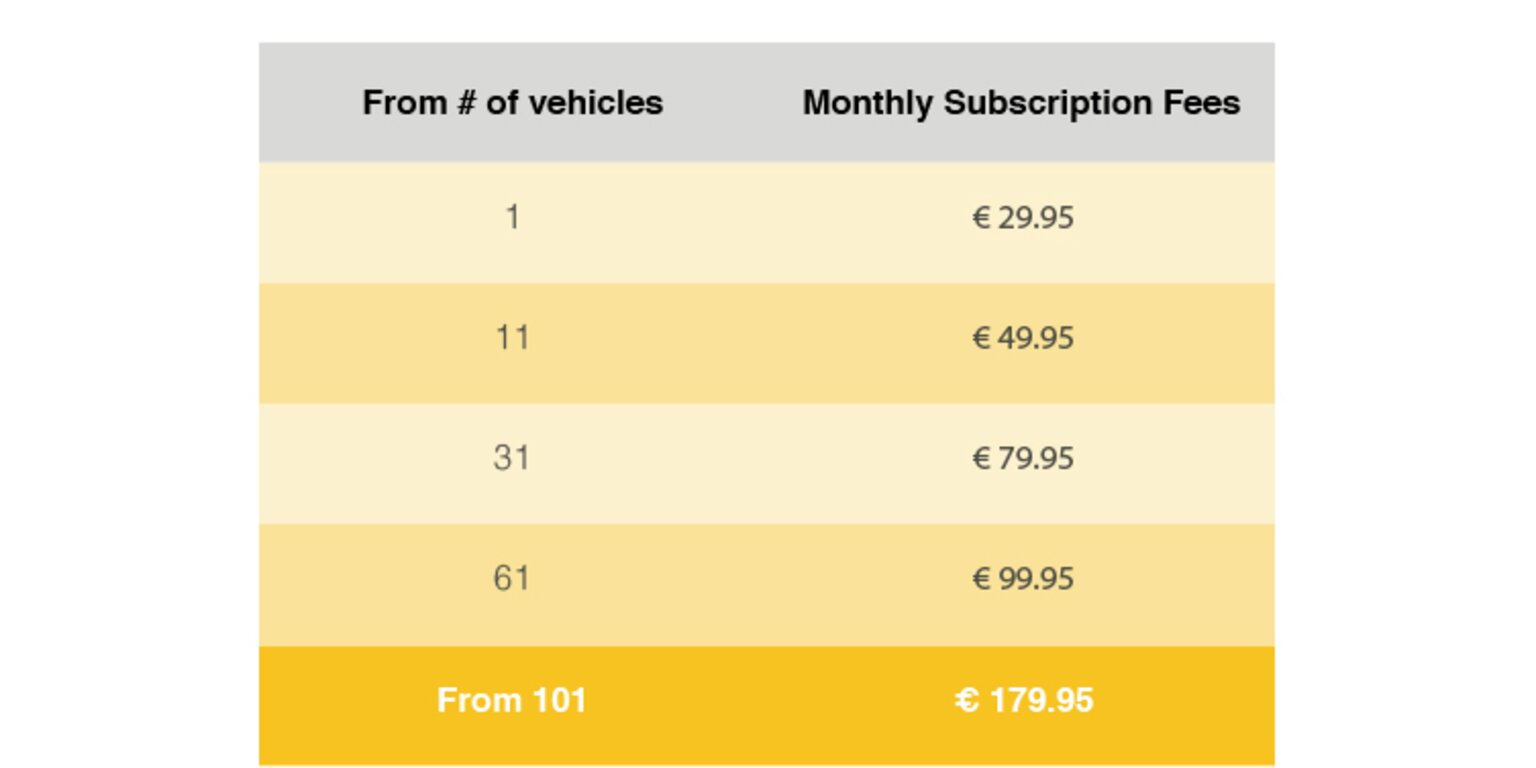 Request your UTA Fuel & Service Card powered by Transporeon today
Complete the form below to submit a no-obligation application. UTA Edenred will respond with next steps to complete your application.
All applications are subject to credit check verification and approval. This only applies to customers within Europe.